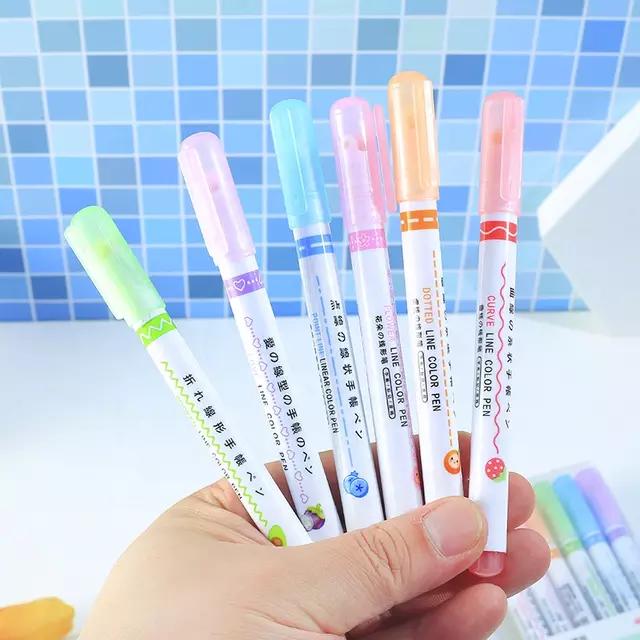 Product Includes: You will receive 6pcs curve pen set(6 different shapes and 6 different colors), ideal for you to create various curve and line you want. Accomplish Curve Lines --- Having trouble with drawing wavy lines using normal colored pens? Try this specially made roller marker - able to create various elegant mark lines with one single pull, none of the trouble, all of the fun.

Premium Material: These pastel markers case are made of high-quality material, making these highlighters pens glide smoothly than other pens. Smooth on the surface, comfortable to hold for your convenience. They are convenient for you to mark and draw precisely in your journals or scrapbooks.

Upgraded Ink: These colored curve pens come with more ink, which can be used for a longer time and produce more mark lines than before. They are perfect for scrapbooking, crafting, doodling, art designs, writing, drawing, journaling and more. Quick-Drying Pen --- Our marker pens are all quick-drying ink, which dries quickly and writes clearly and smoothly. The headband pattern is also very easy to use. You only need to place the pen under the text you need to mark and slide it gently.

High Performance: Reliable ink won't fade or skip. You can use them for card making, arts project, coloring notebooks, school art project, DIY letters, etc. or use them with your kids to enjoy creating something together. One Pen, Two Nibs --- Double nib marker design, used to draw the scroll wheel end of the marker line. The curve highlighter set combines highlighters to mark a variety of colors, and you've got a great tool for your studies and your artistic work.

Ideal Gift: These journal planner pens are suitable for working, studying, annotation and taking notes, etc. they would be ideal gift for kids or adults who love express themselves by using these amazing marking pens. Who doesn't love these funny and creative making pens. Wide Applicable Occasions --- This beautiful pen set makes it easy for all the family to use for card making, crafts, coloring books, school projects, DIY letters, and more.